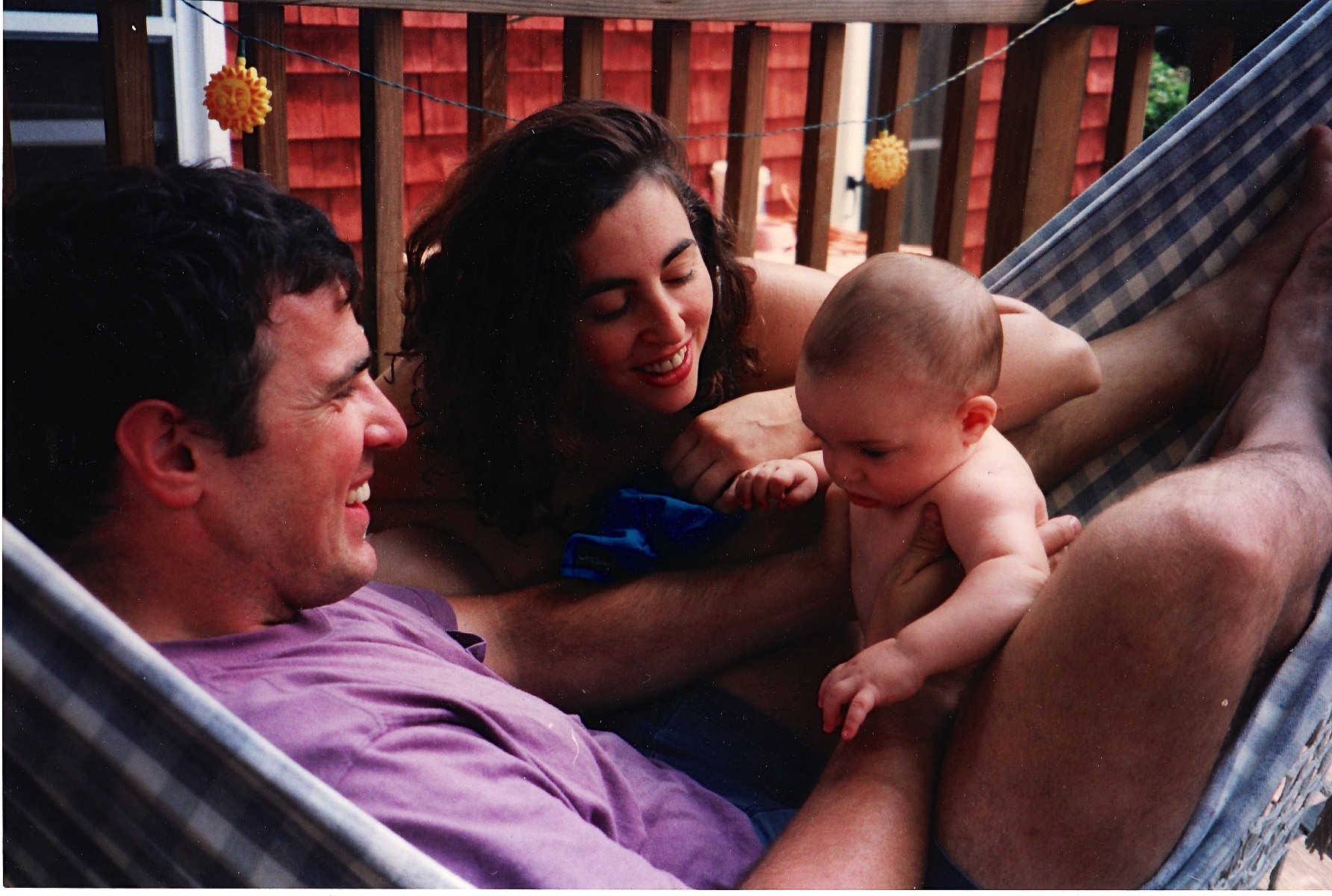 Dear Dave:
We would have been married twenty years today. Can you believe it ? I've been mad at you a few times this last year having to shoulder the teen angst of our son alone.  I have had rebelliontimes two from Aidan ever since he hit double digits.I know its not your fault but sometimes I think your sheer physique would intimidate Aidan a lot more than my shrieking.  Not to mention I have to look up at him to do it.
It hasn't been easy.
Speaking of which, I don't know how much power you have up there, but maybe you can get Aidan to do better in school this year? He is so smart, but just can't seem to motivate the way he needs to. This could be in part to you leaving us on his second day of Kindergarten.  Either way, I don't think I can sit through another parent teacher conference where they tell me his work effort doesn't match his intelligence.  He has to buckle down to get into college and I am taking him on all the tours without you but that's because I want him to have the wonderful experience we had.
Remember the snowball fight in front of Lodge B?  Remember how everyone was looking for us and we hid in  the storage closet and kissed? I am so nostalgic sometimes I think they should just smear Vaseline on my brain.
Three days ago was Aidan's first day of Senior year. I drove him to the ferry and as he walked away, he turned back and waved, his giant square hand moving in a way that was so like you, it caught my breath.  He is so handsome, Dave. Like you.  At least that's what my friends tell me.  I am not objective when it comes to him. It is my failing as his mom.
I'm sure you noticed me crying in the car after he walked away. (Why is that always the best place to do that?) I was crying for you and because it was his last first day of school.  I'm sure you noticed he had a suitcase too.  His Senior class is hiking in the Smokey Mountains for the first week of school? Isn't that strange?   It will be my first 9-11 without him.  The one thing I have learned from these last twelve years is that life sometimes just feels like a series of goodbyes and letting gos.
I often wonder what it would have been like had you lived.  Thirty years and counting. Would we still be in love or like so many couples I know, just co-existing like two pets in a cage.  I'd like to think we would sustain what we had, that we would still have our running jokes and you would keep pinching my ass when I walked by,or maybe it's just my Vaseline brain talking again.
I am sure you have noticed that I have fallen in love with someone else.  I hope you're okay with it.  It took me ten years to allow myself to open my heart fully to someone else. I'm sure you would have wanted that for me, right?  He is wonderful and smart and so tall I have to stand on my tippy-toes to kiss him.  You would like that he is 100% Irish! Who would have thought? He is sincere and kind and insecure in the most endearing way, the way you were. I am grateful to have someone to hold my hand through this day.  It is not easy for me or for him for that matter and it makes me love him even more that he can let me have this day to remember you.
But  as you know, I always think about you.  They say memories fade, soften and crack like old photographs, but it's not true.  Mine are as clear as sky that day.  DAMN that sky.   That too blue sky that marked the beginning of your favorite season and the end of our life together.
What's strange is that the things   I remember are not the moments you would
imagine. They are not of our wedding day or Aidan's birth or your graduation from the Fire Academy.  They are small moments: the way your arm draped over me when you slept, the sound of your bare feet on the wood floor of our apartment, the dry rasp of your laugh.  I am surprised that a sound, a smell and a gesture can be remembered so much more than days spent.
But I also remember fragments of things. Poignant short film reels: exchanging gifts on Jones Beach on a cold Christmas morning, pulling Aidan in the old Radio Flyer to a picnic in Prospect Park, Long Pond in Cape Cod with Aidan on your shoulders, Chinese food in the living room on Sunday nights.
I want to remember more, but things have begun to fade, like a dream you try to piece together upon waking.  Maybe this is how our hearts heal themselves.
And I am healing.  I have large swaths of happiness. Two weeks ago, Bernard and I were in the Adirondacks lying in a big wooden bed, the kind you wanted to make, remember?  He had his arm around me and the smell of pine seeping through the window made me feel like I have finally returned to myself after all these years.
But by the time I was driving home on the Taconic, the anxiety of this day began, like a low grade fever. Small things like a glass slipping from my hand set me off on a crying jag that I hadn't had since, well, last years anniversary.  And that dream I had on Saturday night. That one with the tornado and that rainbow as bright as the one's we drew with crayons. That was amazing. Especially when you appeared.  Your face taking up the whole screen of my dream.   Your whole square jawed, dimpled face was so close, I could count the pores on your nose.
When I woke up, I had to lie in bed for over an hour to shake the sadness it left behind. Bernard brought me coffee in bed and let me tell him the dream from beginning to end.   We tried to decipher what it meant.  No matter what it meant, I was grateful to have had the dream then to never had had it at all.
Thank you.
Happy 20th Anniversary.
Love,
Marian